Growing In Service Together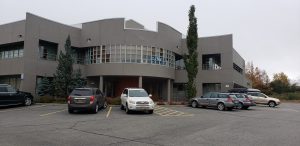 Christian Health Associates (CHA) has been offering "help along the way" since 1995! A state and municipal road project will eliminate our current facility, and we must relocate by winter 2022. CHA is grateful to have found and purchased a replacement facility located at 2121 Abbott Road that, when renovated, will serve CHA, its associate organizations, patients, clients, and our community well into the future.
CHA needs your financial partnership as we "Grow in Service Together" in order to continue offering "Help Along the Way."
Through the sale of our current facility, early donations, and generous grant funding provided by Rasmuson Foundation and the M.J. Murdock Charitable Trust, CHA has secured 92% of the cost of its new home. You can help CHA raise the remaining 8%. Check our website often (christianhealth.org) to see the progress toward our fundraising goal.
Your gift will be matched by a generous grant of up to $250,000 from the Rasmuson Foundation.
Christian Health Associates is a faith-based community organization that seeks to provide help along the way through all of its associated efforts.